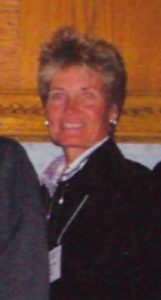 Mary Ryan, Massachusetts – 2006
Mary is currently a teacher of physical education and a field hockey, basketball, and softball coach at Rockport High School where she has been for twenty-two years.  She is also involved in the Futures Program and with the Bay State Games.
She is affiliated with the Cape Ann League, the North Sectional coaches Association (field hockey, treasurer).  She is a member of the Executive Board of the Massachusetts State Field Hockey Coaches Association and a coaches' representative to the Massachusetts Interscholastic Athletic Association Field Hockey Committee.
Her team records for basketball and softball are not available, but she does know that her field hockey teams have recorded a 131-137-100 record from 1983 to the present.
Her teams have an outstanding record in post-season play.  In field hockey, they were Division II State Field Hockey Champions in 1984, Division II North Field Hockey Finalists in 1999, and Cape Ann League Field Hockey Champions in 18=983, 1984, and 1985.  Her basketball teams were Division II North Basketball Finalists in 1985 and 1986.
Mary has been recognized for her many successful teams.  She has been named the Cape Ann League Field Hockey Coach of the Year in 1984 and 1996, and the Cape Ann League Basketball Coach of the Year in 1984 and 1985.  In 1984 the Boston Globe named her the Division II Field Hockey Coach of the Year.  In 2000, she was inducted into the Newburyport High School Hall of Fame.
"Athletics has been an integral part of my life – the values that I learned as a player are definitely values that I still believe in and instill in my players.  Commitment, dedication, integrity, sportsmanship, and hard work are important, not only in athletics, but in academics and life."
"I try to encourage my players to play in college – finding the right school both academically and athletically can be challenging, but also very rewarding.  I think encouraging athletes to stride to be their best, 'reach for the sky' has given the players the necessary encouragement to take a risk – in most cases with a positive outcome.  I am extremely proud to see my former players succeed at the next level – the hard work and determination that they have displayed is rewarding for me and for them.  It is nice to see and hear that your work as a coach can impact a student-athlete in such a positive manner."