Diane L Potter, Massachusetts – 1988
This information was written by Deb Parker.
Most places named after persons of note receive those names when the honoree is no longer with us. "Potter Field," however, is a piece of living turf—named to honor one of the most vibrant Springfield College alums, a woman who is still very much around. 
Diane L. Potter '57, G'63, was one of the first women ever to matriculate at Springfield College. A native of Holliston, Mass., she was introduced to the campus by family friend and Springfield College alum, Fred Janes '41, who'd learned she was interested in becoming a teacher and coach. "He called us all excited when Springfield went co- ed, actually drove me out himself to show me around, and I just fell in love with the place," she recalls. "Four years later, I returned home to start the first physical education program in the Holliston Schools. That course in curriculum development they made us take sure came in handy," she adds. "I had to invent one from scratch that started at grade one—and went all the way up to grade twelve." 
Only a few short years later, Potter received a call from Springfield College that shocked, humbled, and enthralled her. "They asked if I might consider coming back to teach there," she reminisces. "I told them: But I don't have a master's degree! And they said they wanted me, and would arrange it so I could earn my master's there at the same time I was teaching. They did, and it was all like a dream." 
The work Potter went on to perform, and the honors she earned, could fill a whole page. She coached Olympians and All-Americans, was nationally acclaimed as a pioneer in women's intercollegiate athletics, was invited abroad to establish softball clinics in both the Netherlands and Italy, and was named Northeast Coach of the Year two years in a row. She was singled out as one of Springfield College's finest educators when named a Distinguished Springfield Professor of Humanics in 1989, and, no surprise—but it still touches her deeply—it was her own team of players who approached then- president Wilbert E. Locklin to ask if he would consider naming their softball field "Potter Field" in her honor. 
"I spent forty years at Springfield College, and I loved every minute of it," Potter concludes. "While I was a student, and a teacher, I tried to give with service. Now that I am doing my post- retirement planning, I have put Springfield College in my will. With no family to have to provide for, it makes me feel good to know that I can help my 'other' family, my College one. This place gave me the preparation I needed to have amazing opportunities and experiences, and I want to support that process in the lives of the other students and teachers who come next. I was tossed the Springfield College ball. I caught it. And now it's my great joy to be able to throw it on as hard as I can."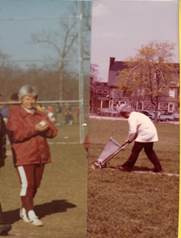 Diane L. Potter, EdD, is professor emerita at Springfield College in Springfield, Massachusetts. Dr. Potter has more than 40 years of experience in physical education teacher preparation, and she has coached the Springfield College softball team for 21 years. In addition, she played Class A fastpitch for 15 years in the Amateur Softball Association (ASA).
Dr. Potter has been an international clinician in softball, conducting clinics in Aruba, Italy, and the Netherlands. She took Springfield College teams to the Netherlands in 1971, 1975, and 1982, competing against the Dutch national team and various sport club teams in addition to conducting clinics for the Dutch youth programs. In 1982, she was awarded the Silver Medallion by the Koninklijke Nederlandse Baseball en Softball Bond (the Royal Dutch Baseball and Softball Association); she is the only woman so honored.
Dr. Potter is an outstanding leader in women's sport. She has served as a member of the AIAW Ethics and Eligibility Committee and was inducted into the National Association of Collegiate Directors of Athletics (NACDA) Hall of Fame in 1986. In 1989, she was inducted into the Springfield College Athletic Hall of Fame. The Springfield College softball field has been named in her honor.