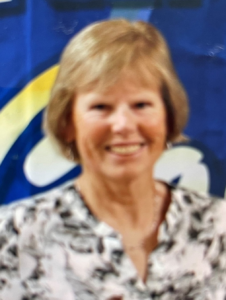 M A E S H O E M A K E R, MASSACHUSETTS
Mae Shoemaker has passionately served girls' and women's sports for the last 50 years. With coaching roots in New Jersey and Pennsylvania, her early career was spent officiating and coaching field hockey and basketball. Her service in Massachusetts started with the creation of a field hockey camp for middle school girls at Nashoba Brooks School, and volunteering as a soccer coach in Sudbury and as a coach and official in Concord.
In 1996, Mae began coaching with the ActonBoxborough Regional High School's field hockey program. Since that time, she has helped develop the program into one of the most dominant in the state, winning several MIAA State Championships. In recognition of these achievements, she received several accolades including being named Boston Globe Coach of the Year, and two-time National Field Hockey Coaches Association (NFHCA) and Metro West Coach of the Year. Mae has also volunteered for the NFHCA in leadership roles, serving as a member and chair of the National and Massachusetts regional All-America award committees.
Mae began officiating for the Concord Swim Team in 1992 and spent the last two decades officiating high school swim and dive competitions as a member of Eastern Massachusetts Swim Officials Association. Since 2005, she has worked as a CSOA NCAA college swim official. In 2007, she was honored for her volunteer service to Eastern Massachusetts Swimming.
In addition to her celebrated work as a coach and official, Mae has been honored by the Boston Athletic Association as a pioneer in women's running and for having one of the longest consecutive marathon-running streaks (33 in a row). Influenced by her roots in a town that provided opportunities for girls to participate in sport before Title IX, Mae has nurtured the athletic careers of two strong daughters who pursued their own Olympic dreams. Beyond sports, Mae is a teacher with degrees from Rider University and University of New England.