Mary Pratt, Massachusetts – 2002
Mary Pratt graduated from Sargent College, at Boston University, in 1940.  She taught Physical Education in the Quincy and Braintree Public Schools and at Salem State College.  Mary has had a long career as a coach and well-known official in several sports.  She served as Vice President for Girls and Women Sports in MAHPERD and as a member of the MIAA Girls and Women in Sports Equity Committee.
Mary has been honored with many inductions into prestigious Halls of Fame.  Among them are: Boston University Hall of Fame, New England Women's Fund Hall of Fame, and the Baseball Hall of Fame in Cooperstown, NY.  She played baseball for five years in the All American Girls Professional Baseball League (she says Madonna played her in the movie) and currently serves on the League's Reunion Committee.
As a speaker before various groups, Mary promotes sports for school children.  She currently teaches Planet Fitness – aerobic classes for senior citizens.  She serves on the MIAA Games Officials Committee and is working on the Mini Fenway Project in Quincy.  Mary also serves as co-chairperson for the New Agenda: Northeast.  She has dedicated most of her life to the promotion of girls and women in sport and was inducted into the New Agenda- Northeast Hall of Fame in 2002.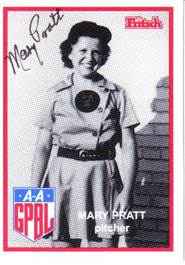 https://sabr.org/bioproj/person/bb599c17
https://www.patriotledger.com/news/20181130/baseball-icon-mary-pratt-joins-century-league
In her own words:  https://www.aagpbl.org/profiles/mary-pratt-prattie/111