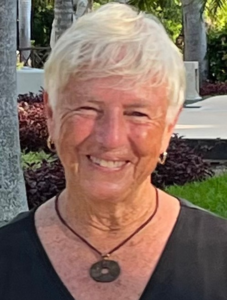 P A U L I N E B I X B Y, MASSACHUSETTS
Pauline "Polly" LaCroix Bixby served girls and women in sports with an unwavering commitment for 40 years. After graduating from Bridgewater State College, she began her teaching career 1962 at R.C. Mahar Regional School in Orange, Massachusetts, where she initiated a leaders club and coached multiple sports.
In the next decade, Polly gave birth to two children and spent time teaching and coaching in Illinois and California. In California, she coached several sports, served as an AAU gymnastics judge, founded a citysponsored youth gymnastics club, and earned a master's degree from San José State University. In 1976, Polly returned to R.C. Mahar Regional School.
For nearly three decades, Polly championed physical education, sport, and active living in Orange. In 1997, she guided Mahar volleyball to an MIAA state championship. Beyond traditional sports, Polly's tenure is marked by innovation and progress. She co-founded the Gay Straight Alliance and Diversity Training programs at Mahar. As a nationally certified aerobics instructor, she not only introduced aerobics to her students, she also brought them alternative activities ranging from adventure-based programming to African dance. In her community, she established girls' basketball and softball leagues, a cheerleading program, and an aerobics program of which 99% of participants were women.
In recognition of her work to empower women, Polly was honored as the New England Learning Center for Women in Transition's Outstanding Woman of the Year in 1990. In 1996, she received the Anti- defamation League's Teacher Incentive Award for her work to promote inclusion. In 2009, in recognition of their invaluable contributions to their school and local community, Mahar Regional School named their gymnasium complex in honor of Polly and
fellow New Agenda Northeast Hall of Fame inductee, Karen Grzesik.
Polly's commitment to creatively empowering girls and women of all ages in body, mind, and spirit through physical activity and sports, remained consistent throughout her career. Now in her 83rd year, she continues to inspire, whether hiking, cycling, skiing, or traveling the world. "Continuously inspiring women by example" is how she describes herself.